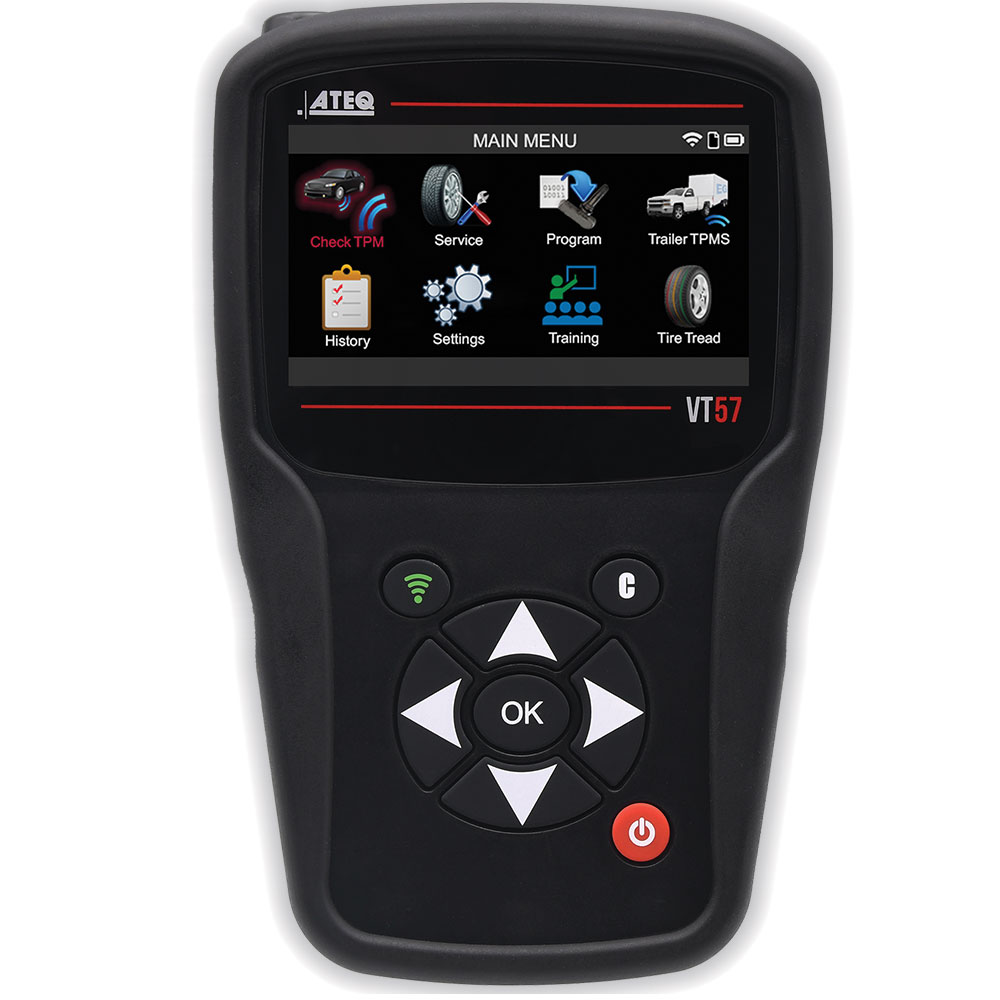 ATEQ VT57 TPMS Tool (Professional level)
Product Code:
ATEQ VT57 Pro
Comprehensive make, model, year specific relearn procedures
Programs all leading aftermarket programmable sensors
Display OBD2 location on tool screen
TPMS reset via OBD2 on many vehicles
Retrieve TPMS DTC codes on applicable vehicles
RKE (remote central locking) testing function
ECU unlocking for Toyota family of vehicles
TPMS sensor part number look-up (OE and aftermarket)
Saves TPMS service history on-board and on PC
Built-in TPMS service help and training
Multi-lingual, 18+ languages
Worldwide TPMS technical support
Easy icon navigation
The VT57 icons visually guide the user through all the functions of this powerful TPMS tool. The icons make using the tool easy to complete the required procedure.
TPMS help and training
Integrated help at your fingertips including tech tips and training on-board.
Part number look-up
OE and aftermarket sensor part number availability.
Aftermarket sensor programming
Program aftermarket sensors, a set of five wheels at a time.
Select by sensor manufacturer or by car model and year.
Vehicle VIN scan (North America only)
Use the tool to scan the vehicle identification (North America only) or select manually.
Relearn procedures
Display OBD2 location and built-in relearn procedures for all vehicles.
TPMS sensor intelligence
View sensor information for all four tyres including sensor ID, PSI, Mhz, temperature, battery life.
TPMS service history
Save, download and print (printer optional) vehicle audit reports. Filter information by car model, date and reset information.
Disclaimer:
All generic scan tools sold by Mount Auto Equip Services Pty Ltd are not guaranteed to work on every vehicle. You accept that the tool and software program is provided "with all faults, defects and errors" and that all scan tool sales use the program "as is" and at their own risk. All software has been extensively tested, but we cannot guarantee that every update will work correctly with every system in every car, truck or vehicle. Mount Auto Equip Services Pty Ltd will always commit to request the manufacturer fix any hardware or software issues and to enhance the program. We specifically disclaim any liability for damage to your car, truck or vehicle and we do not promise to have any particular enhancements or functions available on any specific date.
| | |
| --- | --- |
| Size (HxWxD) | 171 mm x 120 mm x 89 mm (6.74" x 4.72" x 3.5") |
| Weight | 0.7 kg (1.6 lbs.) |
| Screen | 4.3 inches touch screen |
| Power Supply | Lithium-ion rechargeable battery |
| Casing | Protective rubber sleeve |
| Radio Reception | 315 and 433 MHz |
| Interface | 23 languages: English, German, Italian, French, Spanish, Chinese, Croatian, Czech, Danish, Dutch, Finnish, Hebrew, Hungarian, Korean, Norwegian, Polish, Portuguese, Russian, Romanian, Slovak, Slovenian, Swedish, Turkish. |
| Warranty | 1 year |
Database includes
---
| | |
| --- | --- |
| Sensor coverage | All OE sensors worldwide and most aftermarket sensors including Schrader EZ Sensor, Alcar by Schrader, Alligator Sens-it, Continental Redi Sensor, John Dow DVT, Hamaton U-Pro, T-Pro and EU-Pro, Huf IntelliSens, Italmatic Italsensor, Mobiletron, Orange Universal and DirectFit, Qwik Sensor, Steelman. |
| Car model coverage | 100% of all light vehicles worldwide equipped with indirect and direct-type TPMS |
| Software updates | 1 year of free software and database updates included |
TPMS Information
What does the TPMS dashboard light/warning indicate?
The light will illuminate when a tyre is low, and should eventually go out after a tyre has been inflated to its recommended pressure according to the vehicle's door placard. After starting a vehicle, a TPMS icon will turn on for a few seconds, however, if it stays on, it indicates that one or more of the tyres on the vehicle is at least 25% below the recommended pressure. If the light flashes for approximately one to two minutes, it indicates there is a malfunction in the TPMS system.
There are numerous situations that can cause a TPMS warning light to come on or flash. Some TPMS problems include:
Sensor batteries may be dead
Valve itself may have physical damage, corrosion or missing components
The TPMS system voltage supply, wiring or internal electronics may not be functioning properly
The tyres were serviced or rotated and the relearn procedure was not properly performed
Facts about tyre pressure
A tyre "naturally" loses 0.2 atmosphere (2.9 PSI) every 3 months.
85% of all tyre blasts are preceded by a "slow" puncture or leak.
An underinflated tyre is not only dangerous because it can explode, it is also dangerous for the stability control and other safety systems of the vehicle, and penalizes the consumption and the total life of the tyre.
Steps to reset TPMS system
The proper steps to reset a TPMS system for a vehicle with direct-TPMS:
Use a TPMS diagnostic tool to trigger and read sensor information before working on vehicle
Perform service to vehicle's wheels (air pressure adjustment, tire rotation, replace sensors, etc.)
After the service has been performed, use a TPMS diagnostic tool to perform the correct relearn procedure to reset the TPMS system
The proper steps to reset a TPMS system for a vehicle with indirect TPMS:
Perform the correct initialization procedure. This may require a TPMS diagnostic tool to find the steps involved to reset the system.
What does a TPMS activation tool actually trigger?
Users "trigger" or "decode" the TPMS sensor within the wheel. This TPMS sensor is not physically reachable since it is mounted inside the tyre. Therefore, decoding or triggering a sensor must be done wirelessly using a TPMS triggering tool.
Why does my workshop need a TPMS tool?
A TPMS tool is needed for the following:
Activate a newly mounted TPMS sensor
Reprogram the vehicle's ECU so the vehicle recognizes the new sensor when tyres change order or are rotated, mount a new wheel to a vehicle, etc.
Send TPMS sensor information to the vehicle's ECU after activating and receiving the TPMS sensor information
Why can't my current TPMS tool trigger, activate or reset some sensors?
If your TPMS tool cannot activate or reset a sensor, we recommend updating your TPMS tool to include the latest TPMS sensors. With a growing TPMS market, new TPMS sensors are new to the market every day. VT57 engineers are hard at work to make sure all known TPMS sensors are compatible with the VT57 TPMS tools.
Upgradeable TPMS tools such as the VT57, are always compatible with the latest TPMS sensors released to the market.
Product Description
The VT57 is the best & most advanced, leading comprehensive TPMS (Tyre Pressure Monitoring) Service Tool from the worlds leading manufacturer in this field, covering vehicles from around the world, for the professional workshop or technician.
Used by OEM's and the aftermarket, and now with touchscreen capabilities.
The ATEQ VT57 is the all-in-one comprehensive complete TPMS tool with coverage for American, European, Asian & Australian vehicles. Its advanced features and functions provides complete TPMS management. Thanks to frequent updates, it includes all new TPMS sensors and vehicles, immediately when introduced each year.
Fast and Intelligent: The fastest, easiest to use TPMS tool; designed to continuously adapt to a technician's needs, including information and training within the software to guide the technician through the process.
Saves Time and Money: The only TPMS tool with a VIN barcode scanner for fast vehicle selection (Function used on North American vehicles only).
Integrated Help: Tool training, TPMS reset procedures, sensor part numbers, OBD2 locations – all at your fingertips.
Since 2014, all new European built vehicles are required to have TPMS sensors. In 2018, in Europe, vehicles with the TPMS light on will not pass the technical inspection.
6 Reasons to choose the ATEQ VT57
1. Best vehicle coverage
2. OBDII relearns in less than 2 mins
3. Programs all leading aftermarket TPMS sensors
4. Manual & Indirect relearn information
5. Stores 65000 jobs in memory
6. Regular software updates
Kit Contents
VT57 tool
OBD2 module with cable
240V wall charger
Quick start guide
Carry Case
USB lead