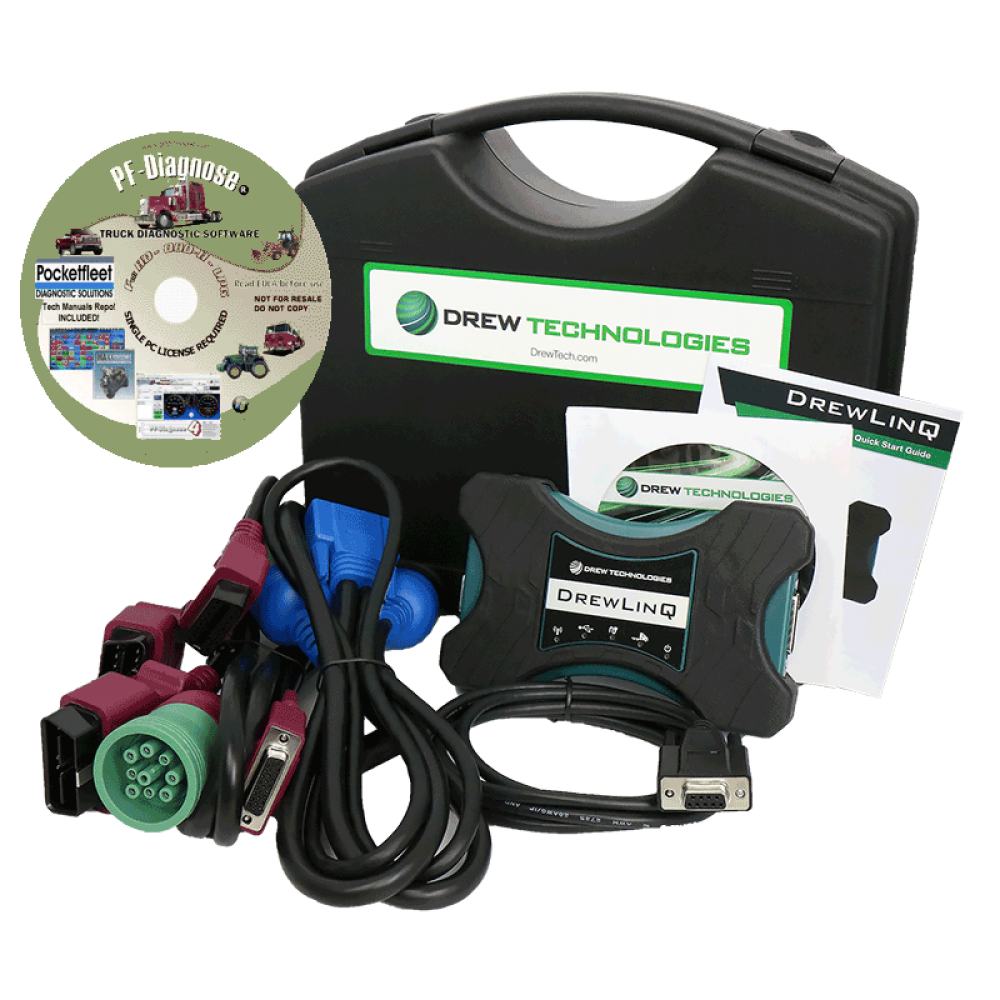 PF Diagnose & DrewLinQ
Product Code:
PF Diagnose & DrewLinQ
THE APPLICATION UP CLOSE
MENU
PF-Diagnose has menu items to perform various tasks such as Print DTC Reports, Export Scan Report to Excel, Work order and Settings are just a few of these options. There is also a toolbar for quick selection of common tasks such as Setup, Record and playback, and erase all DTCs in ALL Modules in one click.
RECORD and PLAYBACK
With the record and playback feature, you can record a diagnostic session and keep it on file or play it back to review the readings as though you were connected to the vehicle. This is a handy feature for reviewing the data and PIDS when showing a customer or colleague.
HISTORY
The history feature allows you to see past activities related to the vehicle. Every time you connect to a vehicle or play a recording from a vehicle, that vehicle's history file is updated showing faults, when you cleared them, and any notes you may wish to store in the history file for that vehicle for example, Sent unit to dealer for warranty repairs related to this DTC.
ENGINE SECTION
Here you will see information on the engine module such as VIN, Total Mileage, Hours, Make, Model and Serial Number. There is also a FAULT button that becomes active if any faults for the engine are detected, you may click this button to erase engine codes leaving all other fault codes alone.
BODY, ABS, and TRANSMISSION SECTION
This section is like the engine section with less detail. Each of these sections report data from the section module only and the erase code buttons only erase codes related to the specific module.
DETECTED MODULES
This is a list of the modules that are seen by PF-Diagnose, they are distinguished by Color and Icon. A BLUE truck indicates J1708 Modules, A RED Truck for J1939 Modules and an OBD-II Connector icon for OBD-II Modules. Some manufacturers use module numbers reserved for another module and some modules contain several sub modules. This can result in an incorrect description of the detected module so be aware of this. If you connect with both J1708 and J1939, you will see two engine modules detected, one with a red truck icon and one with a blue truck icon.
ADAPTER MONITOR
The adapter monitor shows the current protocol, Activity on the datalink, Datalink connect speed and Message delay readings. This is for information only and is not meant as a troubleshooting feature.
GRAPH
The graph can be turned on or off, it can be exported or printed and is a visual history of the 6 selected PIDs. This is a valuable tool as you can select several related PIDs and watch them and what happens just prior to an intermittent fault for example. You can zoom in to some of the graphs, PF-Diagnose gives you a choice of 4 graph types.
GAUGES
There are 7 items displayed in real time on the gauges, these are common items seen on all trucks and are for quick reference. Combined with the 6 graph PIDs you have a total of up to 13 Graphic monitors. Gauges can be exported to a jpg for inclusion in a report if required.
TEMPS
Temps are another 4 graphic displays showing common temperature PIDs
DTCs
DTC or Diagnostic Trouble Code, commonly referred to as Fault Codes. All faults from all modules are displayed here along with the status and counts where available. PF-Diagnose has tens of thousands of OEM Code definitions stored in the database and when you see a fault code, it is researched in the database giving you the most accurate description in the industry.
DTC Lookup
Double click on a Fault Code to see Step by Step Troubleshooting
Currently Available for over 115 Cummins and Hino Engine models. More will be added as available
(Free add-on required available on our Forum)
MONITOR
The Monitor tab allows you to select PIDs for inclusion, See live PID Data for all listed PIDs and print a list of PIDs for your records.
PIDs can be zoomed in on for easier viewing
READINESS
Used primarily for OBD-II, this is the readiness of monitored PIDs and systems.
HD TRIP and HD FUEL
These tabs are much the same as the monitor tab except the only list either FUEL or TRIP related PIDs. Useful for tracking the fuel consumption of a fleet.
GRAPHS TAB
This tab is used to show the relationship between Engine Driving miles, Idle Hours and PTO Hours.
Change Parameters Feature - IHC DT engines Only - Only tested with the DGTech DPA5
PF-Diagnose Features Latest Version
Added 500+ DTC Definitions
Added support for Paccar Definitions
Added Customer Database (My Database) where customers can add their own code definitions
Path to My Database and History File can be changed
Added Fleet Number to main screen
History can be saved by VIN or Fleet Number
Reduced Database calls in DTC tab to improve performance
Some Layout adjustments
Tested on Windows 10 - Passed
Improved error handling
If Custom database is not accessible, it turns off to avoid failed to connect errors so user can continue to scan.
Now works on Kobelco
COMPUTER REQUIREMENTS:
Windows XP SP3, Windows Vista, Windows 7 SP1, Windows 8 - 8.1, 10
Dual Core Processor or better recommended
1024x768 Minimum Resolution Display set to 100% in Personalization setup
25gb Free Hard drive space
Administrator Privileges
RP1210 / J2534 Compliant Diagnostic Adapter
Recommended Adaptor:
Drew Technologies Drew Linq (Recommended) refer MAES.
Supported Protocols:
J1587
J1708
J1939 250k & 500k
CAN
ISO9141 (Japanese & Dodge)
ISO14230 (Korean)
ISO15765 (All Newer Vehicles)
J1850VPW (GM, Chrysler)
J1850PWM (Ford)
OBD-II Support (OBD-II Editions Only)
Mode 1 - Analog/Digital Gauges (160/215 Generic PIDS) / List View
Mode 2 - Freeze Frame Data
Mode 3 - Read Current Faults
Mode 4 - Clear Faults
Mode 4 - O2 Sensor Test Result (Non CAN Bus)
Mode 6 - On-board Test Result
Mode 7 - Read Pending Faults
Mode 8 - Evaporative System Leak Test
Mode 9 - VIN, Performance Tracking Data, ECU Name, Calibration and Verification ID
Mode 10- DPF Regen and other service bay tests
Mode A - Read Stored Faults
Also performs Diesel DPF Regen over OBD-II
Does not work on European Trucks - Scania, DAF, Axor - Ask if you are in doubt...
Tested Vehicles: (These are vehicles we tested, PF-Diagnose will connect to more than listed)
Caterpillar non CDL models
Freightliner
International - MaxxForce - Injector Buzz test and params on DT Series
Ford
Spartan Fire Apparatus
Kenworth
Peterbilt - Paccar
Mack
Volvo
Case
John Deere
Sterling
McClean small articulated tractors
Trackless small articulated tractors
Johnson
Carleton
GM and GMC - Forced Regen Supported
Dodge
Toyota
Kia
Nissan
Mini
Isuzu - Also Forced Regen
Foton
Mitsubishi Fuso 2012 and up Also does forced regen!
Kobelco
Hino (Live data only) 2010 and older - Full data, DTCs and DPF Regen after 2010
A Variety of Stationary engines
A Variety of Marine Engines
Auxiliary Engines
Tested Engines:
Cummins (ALL)
Caterpillar (ALL J1708 / J1939 Supported models)
Detroit Diesel (ALL)
Mercedes 900 and 4000 Series
International (ALL)
Ford F150, 250, 550
Isuzu NPR
2012 Mitsubishi Fuso
2010 and 2014 Hino
Dodge Ram
Chrysler
Kia
John Deere
Case
2010 Volvo
2010 Mack
Paccar reads all DTCs and 90% live data
Other Modules Tested: (Connects to any module on the supported protocol)
Bendix ABS and VORAD
Merritor Wabco ABD & Transmissions
International Electrical / Body Controllers and Instrument Clusters
Freightliner Bulkhead Modules, SCR Controller, Instrument Cluster
Spartan Body Controller
John Deere Hydraulic Controller and Transmission
Allison Transmission
Eaton Auto-Shift Transmissions
Disclaimer:
All generic scan tools sold by Mount Auto Equip Services Pty Ltd are not guaranteed to work on every vehicle. You accept that the tool and software program is provided "with all faults, defects and errors" and that all scan tool sales use the program "as is" and at their own risk. All software has been extensively tested, but we cannot guarantee that every update will work correctly with every system in every car, truck or vehicle. Mount Auto Equip Services Pty Ltd will always commit to request the manufacturer fix any hardware or software issues and to enhance the program. We specifically disclaim any liability for damage to your car, truck or vehicle and we do not promise to have any particular enhancements or functions available on any specific date.
Product Description
PF Diagnose is a cost effective, PC based diagnostic software program for USA Truck systems. This is Diagnostic Software for almost any vehicle on the road in North America today and includes wide coverage for the Australian market. PF-Diagnose will connect to more types of equipment than any other truck diagnostic software. Any vehicle or equipment with an electronically controlled engine requires diagnostic software to troubleshoot. PF-Diagnose will allow you to read and erase fault codes, read and chart live sensors and actuators, perform supported tests, print various reports and more. You can connect to ABS, Cluster, Body Modules, Engine, Transmission, Cars, Trucks, Industrial, Agricultural and Marine, Cummins, Cat, Mercedes, Isuzu, Iveco, Paccar, Volvo, Mack, Freightliner, John Deere, Case, Ford, Dodge, GM, Kobelco, 2014 Fuso, 2012 Hino and many many more!
We recommend this software to be used in conjunction with the Drew Technologies DrewLinq adaptor. Purchase the PF Diagnose software and Drew Linq adaptor and cabling for maximum capability.
PF Diagnose/DrewLinq kit contents
Hard plastic carry case

DrewLinQ Adapter

Install disc (Drivers)

Quick Start Guide

6 and 9 pin "Y" Cable (Green connector compliant)

9 pin and OBDII "Y" cable

Volvo & Mack Purple OBDII Cable (Required for 2013 & newer Mack/Volvo Trucks)

5' USB Cable

PF-Diagnose Full HD with OBD-II (Download)

Tech Manuals Repo (Download)

1 Year Support and Updates
The DrewLinQ/PF Diagnose Kit supports Full HD J1708/J1939 CAN ISO15765 OBD-II J1850 PWM and VPW, ISO9141, and ISO14230 with OBD-II DPF Forced Regen on Isuzu, Ford, Fuso, Hino, Works on more types of equipment than any other software, International, Freightliner, Peterbilt, John Deere, Case, and many more! This is the truck diagnostic kit that won't break the bank. This is a complete kit with a fully RP1210 / J2534 adapter that will work on all OEM Software! PF-Diagnose Latest Version, 6/9 Y Truck Connectors, 9-OBD-II Cable and Volvo OBD-II Cable (A $200 Value Included FREE) PF-Diagnose also comes with 1 year access to the support forum, Support and Updates as well for 1 year free, On the Forum you will find lots of free stuff including diagnostic software for trucks and ABS. Fast 24/7 Email support! This model does not connect wirelessly.