Ateq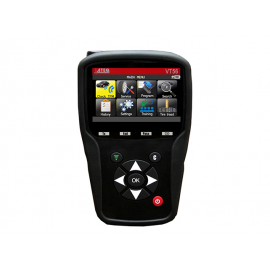 Out Of Stock
Quickview
The VT56 is the best & most advanced, leading comprehensive TPMS (Tyre Pressure Monitoring) Service Tool from the worlds leading manufacturer in this field, covering vehicles from around the world, for the professional workshop or technician. Used by OEM's and the aftermarket. The ATEQ VT56 is the all-in-one comprehensive complete TP..
Optional Docking station for the Ateq VT56 TPMS tool The VT56 docking station houses the VT56 tool, printer and optional sensor for testing. The accessory allows the user to charge the VT56 and printer wirelessly. The docking station can be mounted to a wall or service station for easy access...
Optional Tyre tread depth gauge to suit the ATEQ VT56 TPMS tool. The Tyre Tread Depth Gauge is an add-on accessory for the VT56 OBD2 Diagnostic TPMS Tool. The accessory allows a technician to measure tire tread depth with high accuracy when checking TPMS sensors during routine service and maintenance checks. In one simple gesture, it can detect ..
Showing 1 to 3 of 3 (1 Pages)