Software Updates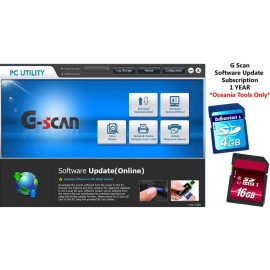 G-Scan Tab or G-Scan 2 Only G Scan 2 or G scan TAB Software update Subscription. (Please note, this is only available to Oceania sold G Scan 2 serial numbers only) Software update subscription for your G scan 2 or G Scan TAB. (G Scan 1 users, please call your supplier for trade in options) "G-Scan Oceania, offeri..
G-Scan 3 update Subscription. (12 months) "G-Scan Oceania, offering the world's most competitive update value. We include extra regional software and all manufacturer groups as standard. As a thank you to our loyal customers, you deserve the best software package" (Please note, this is only available to Oceani..
Showing 1 to 2 of 2 (1 Pages)
Procedures
Zenith Z5
G SCAN
Update Procedure (Gscan 2)
1. Download and install the latest version of the G-Scan PC utility. (Below)
2. Once the G-Scan PC utility has installed open the program and click on configuration, then serial number input and input the serial number of your device, click register.
3. Exit the page to go back to the home screen.
4. Insert the SD card out of the G-Scan into the computer.
5. Click on Software update online.
6. check the serial and click confirm
7. Enter email and password (this is for Gscan 2 Hyundai/KIA OEM skip this if you haven't created the login from the attached document(HERE)) click confirm or skip (Click confirm again if you didn't enter a username and password).
8. Click on update when it has finished checking the files on the SD Card prompted
9. Once the update has completed insert the SD card back into the G-Scan
G Scan 2 PC Utility
G Scan TAB March 2020 software download
J2534 Driver files
AUTOLAND
J2534 Driver files
AUTOCOM CDP+ / OPUS CMT ADVANCED
Download & Software Installation Guide
Autocom CDP+ Log Capture Procedure
ROSS-TECH VCDS
Latest VCDS Software Release 21.3.0
HEX-NET Interface Registration instructions
HEX-V2 Interface Registration instructions
PICO TECHNOLOGY
PicoScope 6 Automotive 6.14.25
---