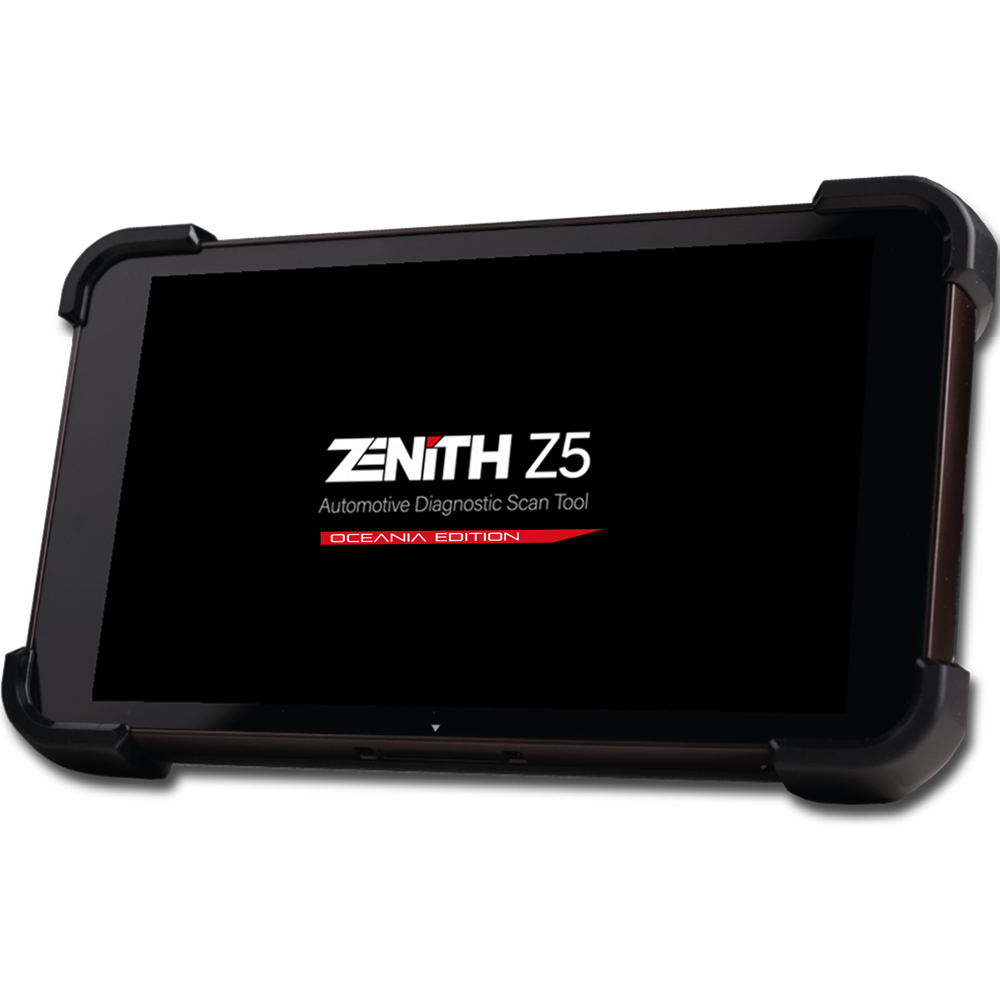 Zenith Z5 Oceania Edition
High Performance CPU
A powerful octa-core processor for optimum diagnostic performance and fast management of workshop operations.
Smarter and Faster Operating System
Based on the Android 9.0 system provides improved user interface and experience for fast boot-up, multi-tasking, better networking and enhanced system security.
Capacitive Touch Screen on 8.0" LCD
Eyellumicate™ Display LCD provides crystal clear view in both indoors and out, offering field-optimized display under bright workshop environment.
Extensive Storage Capability
The internal flash of 32GB accommodates software applications and data for all brands with room to spare, and the external memory space up to 128GB allows an extensive storage for saving images and recorded data.
Pre & Post Diagnostic Report
Designed to easily create a diagnostic report. The pre-scan report will highlight any issues that vehicles have, while the post-scan report will confirm that they have been resolved properly.
24V Commercial Vehicles
Designed to support the 24V commercial vehicles systems, make direct connection to the buses and trucks.
Wireless Functionality
Wi-Fi connection to the Internet allows for smart updates, quick feedback, TeamViewer support, wireless printing option, browsing and many more.
J2534 Pass-thru
Zenith Z5 functions as a 'Pass-Thru' device for OE diagnostics & programming control units for multiple carlines.
Disclaimer:
All generic scan tools sold by Mount Auto Equip Services Pty Ltd are not guaranteed to work on every vehicle. You accept that the tool and software program is provided "with all faults, defects and errors" and that all scan tool sales use the program "as is" and at their own risk. All software has been extensively tested, but we cannot guarantee that every update will work correctly with every system in every car, truck or vehicle. Mount Auto Equip Services Pty Ltd will always commit to request the manufacturer fix any hardware or software issues and to enhance the program. We specifically disclaim any liability for damage to your car, truck or vehicle and we do not promise to have any particular enhancements or functions available on any specific date.
Specification
| Category | Specifications |
| --- | --- |
| CPU | Octa Core Processor @ 2.0 GHz |
| Operating System | Android 9 |
| System Memory | Internal 32GB, RAM 3GB |
| External Memory | Micro SD Card |
| LCD | 8.0 inch FHD (1920 x 1200) |
| Input Devices | Capacitive Touch Screen, 3 Hard Keys (Power, Volume +, Volume -) |
| Camera | 8 megapixel auto-focus with LED flash |
| Sound | Loud Speaker | 1 Microphone; 3.5 pi standard audio jack |
| Rechargable Battery | Li-ion 3.8V 3200mAh |
| Operating Voltage | DC9 ~ 30V |
| Sensors | Ambient Light, Proximity, Gyroscope, Accelerometer |
| Dimension | 225 x 136 x 33mm |
| External Port | USB 1ea, USB C 1ea |
| Network | RJ45 Ethernet, WiFi 802.11 a/b/g/n, Bluetooth 4.2 |
AC/DC Adapter
| Category | Specifications |
| --- | --- |
| Input Power | 100 ~ 240V AC |
| Frequency | 50 / 60 Hz |
| Input Currenty | 1.5 A |
| Output Voltage | 12V DC |
| Output Current | 3.2 A |
Supported Communication Protocols
CAN (High speed, Low speed, Single)
ISO-9141, ISO-9141-CARB, KWP-2000
SAE-J1708, SAE-J1587
J1850(PWM/VPW)
Melco Pull-Down
Download Single Page Flyer Here
Download 4 Page Brochure Here
Download User Manual
Download MSDS
Product Description
Introducing the all new Zenith Z5 automotive diagnostic scan tool for the Australia/New Zealand markets.
Continuing on with the best ongoing quality assurance diagnostic program, the Zenith Z5 delivers the same trusted, high end, advanced universal software, with decades of domestic diagnostic experience and backed by the same locally based support team.
The Zenith Z5 is a world class, premium quality, compact, ruggedised 8" industrial tablet made in Korea, feauturing EZDS' unparalleled diagnostic software program familiar to the Australian/New Zealand market since 2009. Driven by a powerful octa-core processor for optimum performance and efficiency in the workshop.
Featuring the Android 9 operating system for fast and easy menu selection, quick boot up, multi tasking, fast networking and enhanced security. The Zenith Z5 is an ergonomic, lightweight, workshop friendly device which provides a crystal clear, field optimised display in bright sunlight conditions.
With advanced graphing, recording & logging of vehicle data analysis, fast glitches can be monitored, saved and reviewed very simply.
The Zenith Z5 supports 12 and 24v vehicles with Bi-Directional functionality to perform functions such as key programming, DPF regeneration, injector pilot learning, steering angle calibration, electronic park brake service mode, automatic transmission relearn functions, module coding and programming plus much more...
The Smart update system allows the user to remain up to date easily using Wifi connection, and files can be printed or shared via Bluetooth.
The professional Pre/Post scan diagnostic report function provides an intuitively designed diagnostic report created quickly and easily, including workshop and customer details, diagnostic trouble codes, saved image files, camera images, personalised notes etc
The Z5 offers diagnostic software programmed by engineers with technicians in mind, including fast access to Service functions menu & Auto selections, all backed by the same professional, local technical support team to assist.