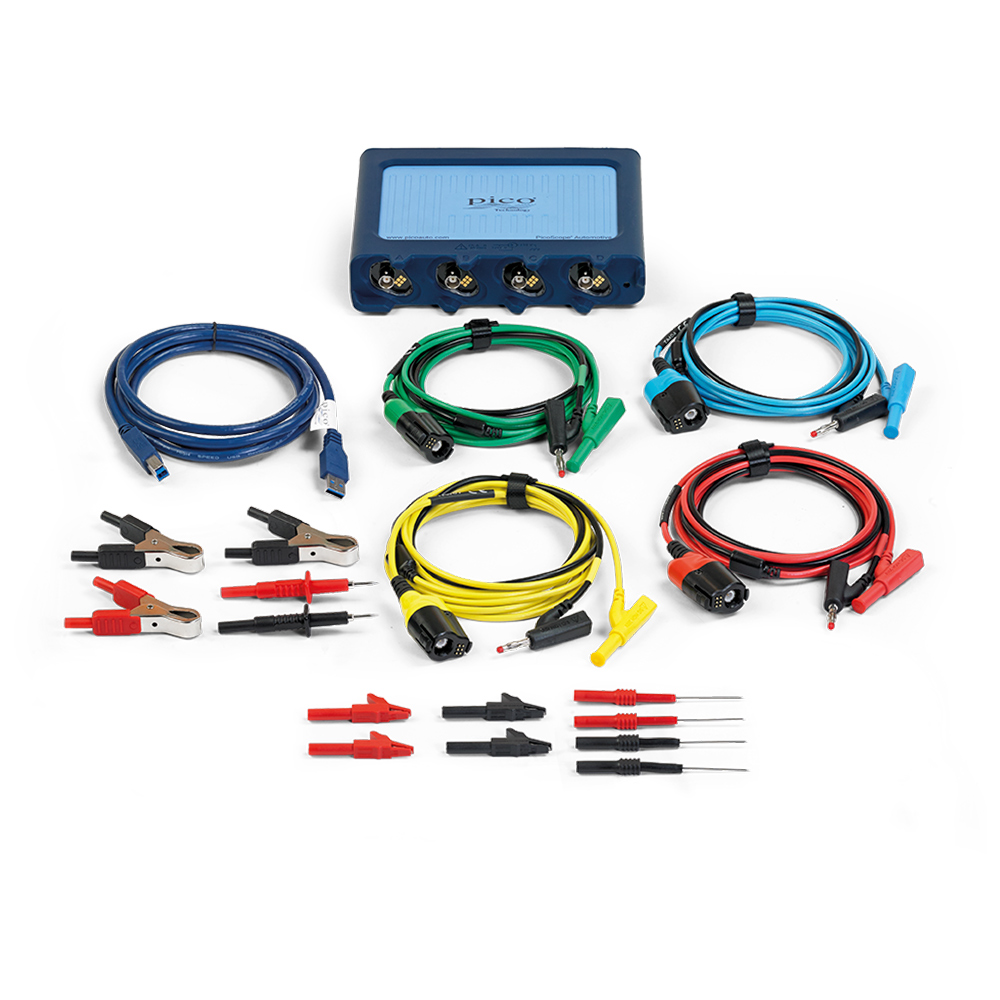 PicoBNC+ 4 Channel Starter Kit
Why buy a PicoScope 4425A?
PicoScope is used and trusted by more authorised and independent repairers than any other measurement system because it gives the user the capability, confidence and support to quickly find and prove the fix for most vehicle faults. When you buy a PicoScope, you benefit from more than 25 years investment in the world's best diagnostic oscilloscopes.
The PicoScope 4425A is simply the best diagnostic oscilloscope for vehicle and equipment technicians, offering unrivalled performance for the same amount as equipment that leaves you stuck or frustrated by their limitations. The Pico community and resources are there for you every step of the way with a PicoScope diagnostic oscilloscope.
Some of the unique features we have on the 4425A/4225A are real advantages compared to other scopes and deliver real benefits to technicians:
PicoBNC+ probe recognition improves Scope setup which saves time, reduces errors, and allows new users to become confident and comfortable faster than with other scopes.

PicoBNC+ powered probes improve Equipment maintenance which means that probes are always ready for action (no more flat batteries!), with no battery power limit on the use of current clamps for long-term measurements.

PicoBNC+ software control improves Probe setup which provides Auto-zero on Current Clamps and other probes, avoids incorrect probe switch settings, and simplifies probe set-up for users.

Channel status LEDs improve Technician help which provides a clear indication of which probes to connect to which channel, and of active channels.

Probe mismatch [in PS7 only] improves Connection accuracy which eliminates the chance of accidental incorrect setup or measurements.

PicoBNC+ Resistance lead improves Measurement options providing reliable dynamic testing when only resistance specifications are available, and monitoring changes of resistance in real-time (wiggle test).

Pico BNC+ Temperature lead improves Measurement options providing correlation of faults with temperature, and testing of HVAC system performance with time.
In addition to the new features, the 4425A still offers the benefits seen in the 4425 PicoScope:
ConnectDetect™ improves Component connection which gives you confidence that you have made a good probing connection.

Higher voltage input range (+/- 200 V) improves Scope flexibility which saves time as attenuators are less likely to be required (e.g. for injector voltages), and protects the equipment against inadvertent connection to higher voltages

Floating input system improves Measurement options offering safe low-noise measurements where none of the inputs are grounded and allowing voltage drop measurements using a single channel

High sample rate (up to 400 MS/s) improves Diagnostic capability allowing you to test the latest technologies, see waveforms in high detail, and pick out all important signal anomalies.

High vertical resolution (12-bit) improves Measurement evaluation delivering waveforms in high definition and without the distortion due to low resolutions

USB connectivity improves System configuration delivering portability and convenience for technicians with reliable operation in all environments.

Advanced triggers improve Measurement options making it possible to capture intermittent faults and fast acting glitches

Advanced filtering (hardware and software) improves Measurement evaluation allowing technicians to remove or reduce measurement noise that might obscure the underlying signal waveform.

Hardware frequency measurement improves Measurement options providing a real-time view of information encoded in frequency modulated digital signals, such as those from a digital AFM

Large memory (250 million samples) improves Measurement options allowing long capture durations necessary to capture intermittent faults

Maths channels improves Measurement evaluation providing technicians with automatic processing of data to display information most useful to them such as power or RPM.

Measurements and rulers improve Measurement evaluation allowing technicians to measure crank angle and other phase-related signals within periodic automotive signals
Free software upgrades improve Future-proofing which allows your investment to increase its capability with time without any subscription charges.
***Note: items greyed out in image below not included in this kit***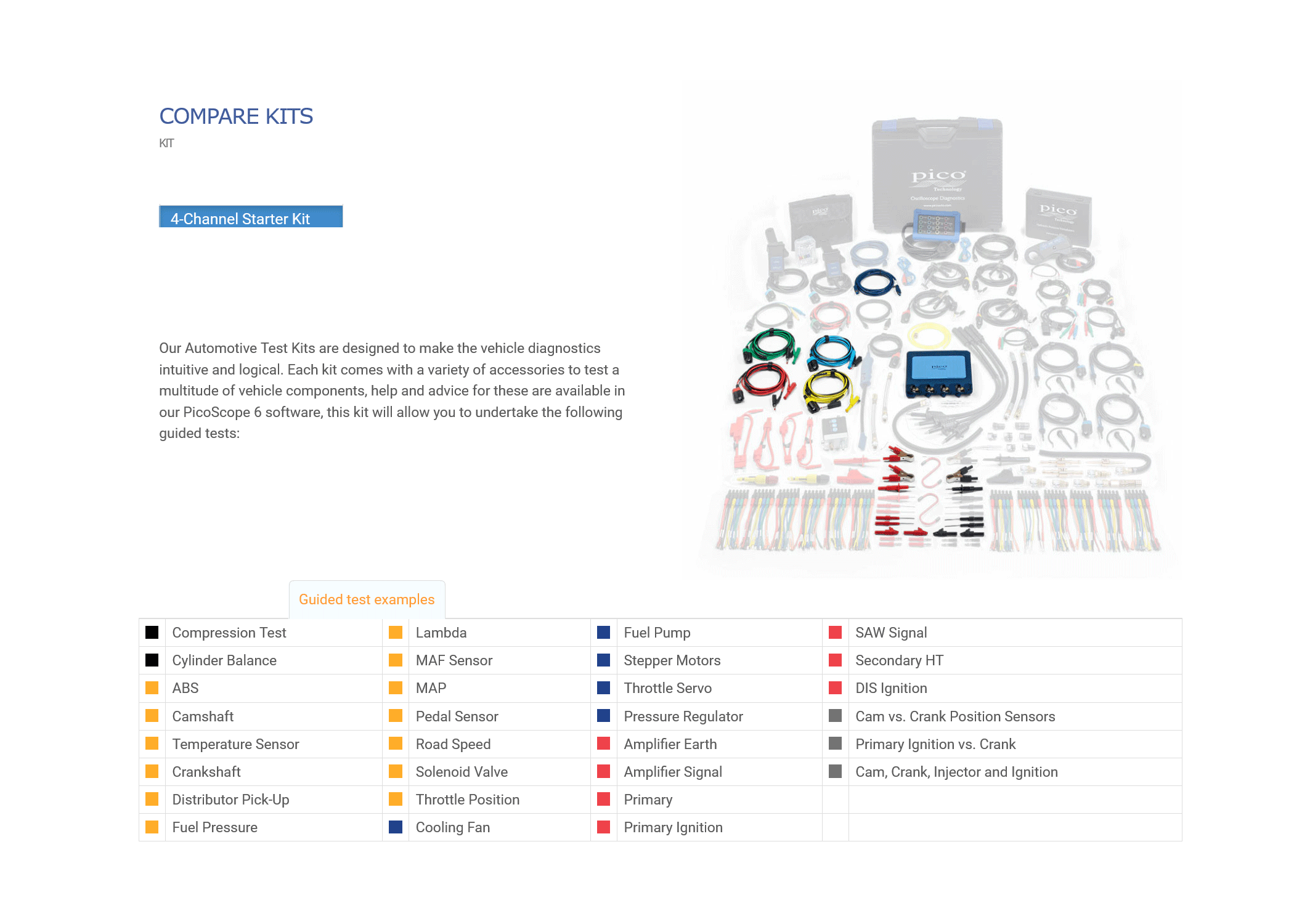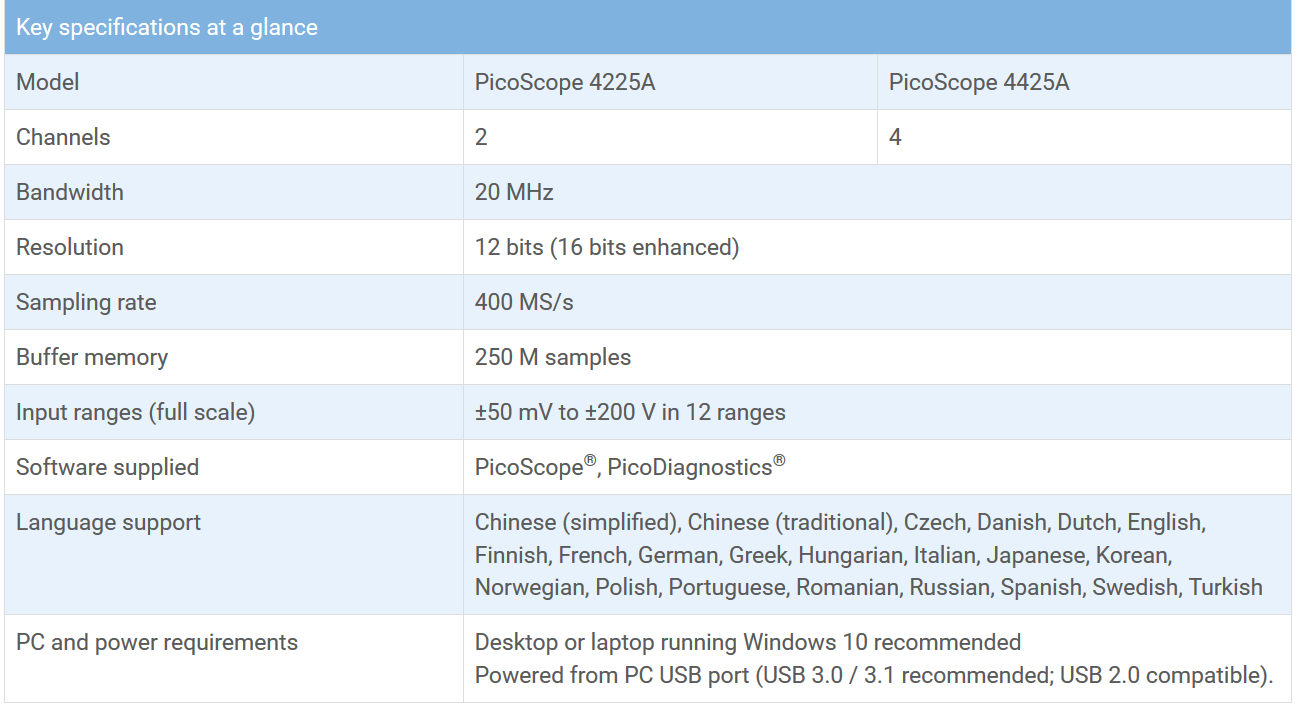 PQ176 4 channel PicoBNC+ Starter kit contents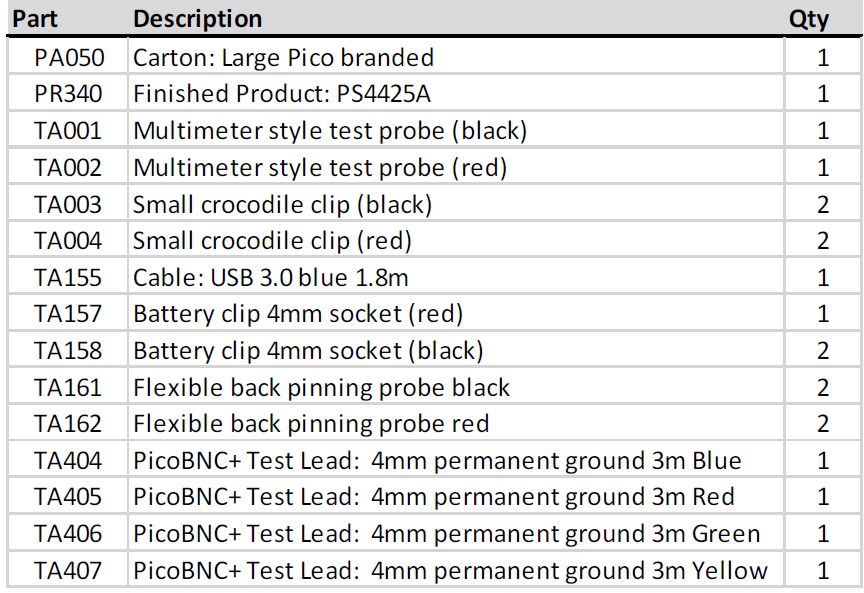 Product Description
PicoBNC+ Starter 4000 series 4 channel automotive pc based oscilloscope Starter kit.
Vehicle electronics continue to get more complex. Does this make it harder for you to find faults?
With a PicoScope it doesn't have to…
A PicoScope is a PC based automotive oscilloscope (sometimes known as a labscope). It turns your laptop or desktop into a powerful diagnostic tool, showing you what is really going on with a vehicle's electronic circuits. Think of a PicoScope as the "X-ray machine of diagnostics", giving you the ability to see the inner workings of your vehicle's wiring.
You can purchase a PicoScope automotive oscilloscope on its own, but most people purchase one of our award winning Automotive Diagnostics Kits. These money saving kits contain everything you need – just add a PC.
This brand new Pico Automotive scope model combines all the strengths of our existing Automotive scope, but adds a smart interface for powered and intelligent accessories. This has been achieved by creating a new interface PicoBNC+™ which combines the standard BNC with a smart digital connection.
PicoScope™ 4425A: Active Diagnostics
The new 4225A and 4425A models have been introduced to make it even easier (and intuitive) for new users to become productive with PicoScope. They also offer significant advantages to technicians of all experience such as probes powered via the scope rather than external batteries, and open the door to a whole new series of intelligent probes and new applications that make PicoScope the most intuitive, capable and future-proofed automotive oscilloscope on the market.
About PicoBNC+
The new PicoBNC+ connection has been developed to bring to the market a unique combination of support for legacy and 3rd party probes with a simple and powerful system to provide new intelligent probes for the future. The new PicoBNC+ connection is a plug-and-play design – push to connect and that's it! The connectors use colour coding on the plastic shell that can be matched by interactive LED's on the scope giving both an indication of what is expected and confirming what is connected. Powered probes are automatically recognized in the software and the scope set up accordingly making it even faster for a technician to use the PicoScope 4425A and allows them to concentrate on testing what is in front of them.
The PicoBNC+ interface retains the BNC connection for best high-frequency analog response, but adds digital and power interfaces. The new colour coded plastic shells on the probes give us enough room in the housing for electronics which opens up limitless possibilities for future probes. At the same time, all existing BNC probes can still be used.
A new feature with the PicoBNC+ probes is Probe Mismatch. The new PicoBNC+ probes are recognized in software, which saves this information with a PicoScope data file. When the file is subsequently opened, the software can tell which probes are connected and the user will be prompted if the connected probes are different to the probes saved in the original settings file. (PS7 only).
Keeping all the good stuff
There is no loss of existing features from the existing model PicoScope 4425:
±200 V to ±50 mV input ranges with floating inputs

Up to 400 M samples/second (Fast enough for FlexRay, CAN FD etc.)

512MB Deep Memory inside the scope (Capture intermittent faults that other scopes miss)

ConnectDetect® for confirmation of good contact

USB2 or USB3 connectivity to PC

Hardware frequency coupling

Hardware & software filters

Hardware & software triggers

Vehicle health check to build business with PicoDiagnostics

NVH (Noise, Vibration & Harshness) diagnostics

Maths channels, Masks/Alarms, Serial Decoding, Rotation/Phase markers
Reference waveforms, Waveform Library, Guided Tests, Forum, Training